Introduction
Are you searching for a way to leverage your LinkedIn campaigns to improve your networking or generate leads for your businesses?
If yes, you're probably looking into tools that can help you achieve your online marketing goals.
Waalaxy is an incredible tool that lets users use LinkedIn and cold emailing to automate lead generation and messaging while also monitoring their team's performance.
When used properly, Waalaxy can be very efficient in converting your leads into customers.
With Waalaxy, users can easily automate messaging and stay connected with prospects across multiple devices.
We've been following how the SaaS can improve your marketing plans, and wanted to share our thoughts with you.
Waalaxy's Google Chrome Story Extension
Waalaxy automatically contacts leads through a chrome extension, optimizing your campaigns management, providing hidden instant insights.
The chrome extension automatically syncs with your LinkedIn account once you download it. You can then import the leads using LinkedIn Search, LinkedIn Sales Navigator, or a CSV file.
The extension allows you to bypass LinkedIn's weekly connection request limit of 100. Each week, you can send 700 invitations to prospects using Walaaxy.
How to Connect Your Linkedin Account to Waalaxy
When you sign up for Waalaxy, you will automatically be guided to connect your LinkedIn account.
All you have to do is open up LinkedIn and then open Waalaxy.
This tutorial explains how to import leads into Waalaxy:
Walaxy's Main Features
There are many ways to move a prospect through your sales funnel, but you need to make a lot of work with them. Waalaxy easily automates the entire process.
For now, the extension works with LinkedIn, Dropcontact (a B2B email finder and enrichment tool), email, and webhooks.
Soon, you'll be able to read your LinkedIn messages from the app itself.
This is what the extension looks like. Go to a LinkedIn search page after you have added the extension to Chrome. Then, Waalaxy will scan your leads, check if they are new, and add them to your lead management system.
Waalaxy's chrome extension automatically syncs with your LinkedIn account once you download it. You can then import the leads using LinkedIn Search, LinkedIn Sales Navigator, or a CSV file.
Waalaxy can group prospects by status, tags, email find, and even personal connections. Waalaxy can send messages on your behalf, creating automated emails and even adding relevant files to your prospect's inbox.
Lead Generation and Multi-Channel Prospecting
Using the email finder, you can find your prospects' email addresses and send them cold emails if they don't accept your LinkedIn invitation.
To make the most effective use of Waalaxy, after you get your more leads, start a new campaign on the dashboard. This increases the chances of your prospects engaging with you, and helps you target the right people.
Waalaxy offers more than 150+ campaign sequences, which allow you to send automated messages and invitations to your list of LinkedIn contacts.
The templates are arranged into action sequences. You can follow up with them if they don't respond after a certain period. Your template is therefore critical to the success of your propecting, tactics, and goals.
Wealaxy imports your leads as a list.It will integrate these new leads into its CRM, removing the need for a third-party tool.
With Waalaxy, It is even possible to create automated follow-up messages that can drive your leads deeper into the sales funnel and improve your response rate.
In other words, each invitation, message, and email will be sent in sequence up until the prospect responds.
Reports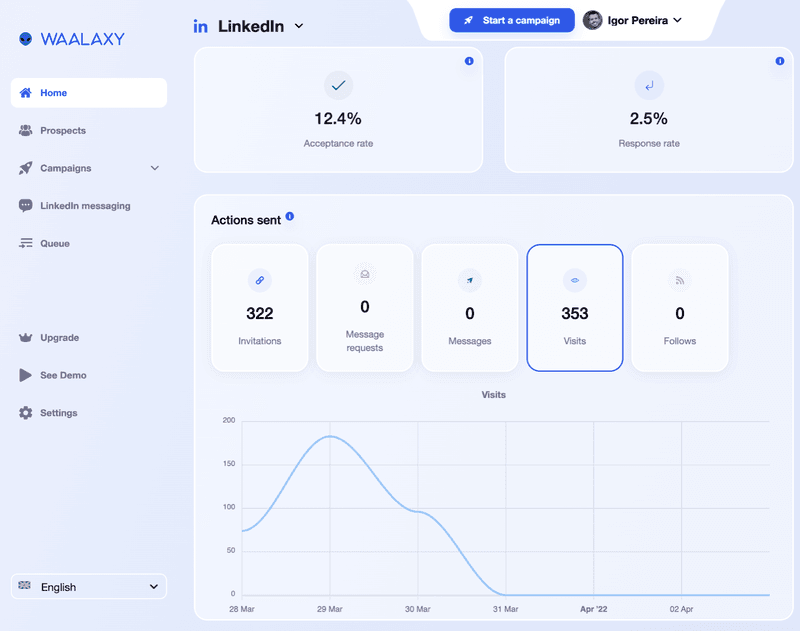 A convenient control panel can be found under the "Home" tab. Overall, it is clean and aesthetically appealing, and it was quite comprehensive.
Keep track of all progress made on your campaign ( visits, connection requests, messages, emails).
Additionally, you can see your acceptance and response rate.
The Team Plan
Using Waalaxy, you can combine multiple accounts into one interface without your sales team members having to share their LinkedIn accounts.
Leads can easily be imported from different accounts and exported between accounts within a team.
Managing access permissions and adding and removing members is free of charge for account holders.
Using a centralized dashboard, you can track your team's performance and evaluate multi-channel prospecting strategies.
The Integrations
Almost everything you need to do toward fulfilling your prospecting and lead generation can be done directly from Waalaxy. But it also integrates with other apps.
Zapier allows you to connect Waalaxy to a variety of tools in order to automate updating CRM software, multi-channel prospecting, exporting leads, and sending notifications to Slack.
Connect your Waalaxy account with Gmail, Outlook, or another email service.
What distinguishes Waalaxy from Meet Alfred, Linked Helper and Dux-Soup?
Waalaxy's main advantage over other players is its simplicity. It's the only tool that combines sophisticated features with an intuitive interface.
People with no technical expertise can launch outreach campaigns across different channels quickly.
The average number of invites it sends is higher than LinkedIn's weekly cap of 100. As compared to DuxSoup or Meet Alfred, you can easily reach 500 people weekly.
Dux-Soup and Linked Helper change the HTML source code of LinkedIn Pages, making them visible to LinkedIn. That's why we didn't alter the HTML code on the LinkedIn pages.
In some ways, Wallaxy is comparable to Skylead and Leadin, but is easier to use.
If I use Waalaxy, what are the chances of getting banned from LinkedIn?
Both Linked Helper and Dux-Soup change the HTML source code of LinkedIn Pages, making them visible to LinkedIn. That's why we didn't alter the HTML code on the LinkedIn pages.
Waalaxy simulates human behavior (i.e., LinkedIn queries are simulated using random turnaround times) and set daily quotas so that LinkedIn cannot mistake it as a bot.
In addition, Waalaxy set up security to pause LinkedIn connection requests if they fail to go through. Every six hours, the tool checks to see if LinkedIn received the connection, and it then restarts.
As a final step, we have disabled the LinkedIn-banned extension detection script. Like this script, we also send a request that says "Everything's fine, no extensions detected."
Because of this, you are able to use the extension without risking your account.
Waalaxy's Pricing Plans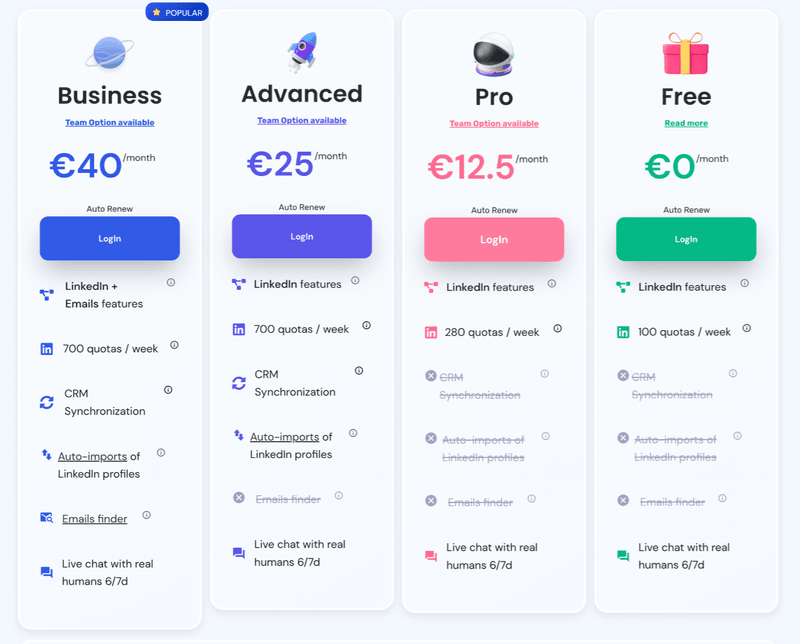 Waalaxy offers four account plans. You can invite, message, and visit people on LinkedIn with automatic follow-ups on all of them.
You can send 100 invitations per week with the Free Plan.
Pro Plan members receive 280 invitations per week. The cost is 12.50 euros.
The advanced plan costs 25 euros per month, allowing you to send up to 700 invitations per week and unlocking new features such as CRM synchronization and automatic LinkedIn profile import.
In the Business Plan, you have all the features of the Advanced Plan plus the email finder, allowing you to find emails from LinkedIn's prospects with Dropcontact. This plan costs 40 euros per month.
Team options are available for the Pro, Advanced, and Business Plans.
AppSumo has a lifetime deal for Waalaxy. All features are included for a lifetime, including DropContact integration for the best price.
Our Opinion
Waalaxy aims to simplify the tedious task of prospecting and lead generation.
The tool lets you automate the entire process of generating leads and communicating with them.
You no longer need to use multiple tools or spend countless hours managing and optimizing your campaigns; Waalaxy will help you do it all in a fraction of the time.
What's even more, Waalaxy lets you monitor the performance of your team so you know which prospecting is generating the most leads and which ones are underperforming.
Waalaxy is an intuitive solution that will help anyone grow their contact list, and nurture leads using LinkedIn and email.
Lifetime Deal
Waalaxy is a tool that lets you use LinkedIn and email to automate lead generation and messaging, plus monitor your team's performance.
✅ Lifetime access to Waalaxy
✅ All future Business Plan updates
✅ LinkedIn and email features
✅ 700 invitations sent weekly per seat
✅ CRM synchronization through Zapier and Integromat
✅ Auto imports of LinkedIn profiles
✅ Email finder via Dropcontact
✅ Centralized dashboard and campaign management
✅ Export from one account to another
✅ Easy sharing of prospect lists
✅ Anti-duplicate management
✅ Multi-account management
✅ Admin capabilities